Erosion Control
Proper Storm Water Management can have long-term positive effects on the environment and your construction project. By preventing, reducing, and removing pollutants with proper Best Management Practices (BMP), you will minimize environmental hazards (flooding and contamination) and avoid costly state and federal fines.
Effective Erosion Control Ensures
Lower Total Cost
Focus your labor on your construction project, not trying to understand BMPs and storm water regulation.
Happy Neighbors
Preventing runoff means fewer problems and complaints, keeping your project on schedule.
Project Success
Proper, well-maintained erosion controls contribute to finishing your project on time and on budget.
All construction sites and Linear Underground Projects (LUP) disturbing more than one acre, many industrial sites, and all designated Municipal Separate Storm Sewer Systems (MS4s) must meet the requirements of the National Pollutant Discharge Elimination System (NPDES) permit.
As experts in Storm Water Management, the SWIMS team can install and maintain your erosion control BMPs to keep your construction project in compliance. 
Schedule a Free Inspection
One of our experts in your area will arrange a convenient time.
Receive Your Estimate
We'll outline the best erosion control plan for your site and detail the costs.
Keep Construction on Track
We'll make sure your site remains compliant and trouble-free.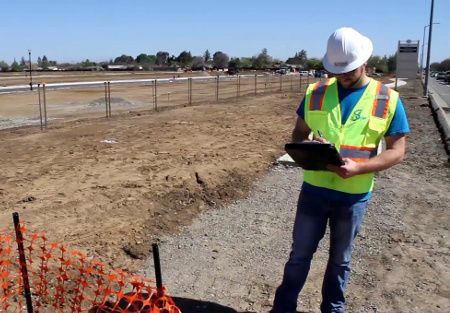 SWIMS services all Risk Level 1, 2 & 3 construction projects as well as Linear Underground Projects (LUP). Service includes:
Weekly inspections
Rain Event Action Plans (REAPS)
Quarterly non-storm water inspections
Compile and retain critical compliance documentation, including Annual Reports, Change of Information (COI) and Notices of Termination (NOT)

Our Best Management Practice (BMP) experts will design a comprehensive BMP plan tailored to your site. Then our trained team will install all devices to ensure effective storm water management. BMPs we're equipped to use:
Straw wattle/fiber rolls
Catch basin protector
Silt fence
Construction entrances
Gravel bags/silt stoppers
Rolled erosion control products (RECP) or blankets
Installing BMP products is just one part of a comprehensive storm water management solution. Over time, the management strategies put in place can become compromised, damaged, or site conditions have changed.
SWIMS field technicians can maintain, repair and enhance your BMPs. From cleaning sediment around catch basins after a rain event to the repair of BMPs disturbed during construction, SWIMS has the expertise to meet your needs. BMP maintenance and street sweeping can be set up for daily, weekly, monthly or "on-call" service.